You may remember the bombshell I dropped last year when I published my translation of select pages of a
manga outlining the dangers of recognising human rights
. This time, a fascinating looking book with an extremely evocative cover has started to appear on shelves of "Family Mart" convenience stores up and down the country entitled "外人犯罪裏ファイル" (rough translation "Foreigner Crimewave Exposé" - note the officially recognised as politically incorrect word for "foreigner.") As always, friend and fellow naturalised citizen
Debito
was already at the scene by time I arrived, and mutual acquaintance Steve had been sufficiently outraged to get busy scanning and beat me to the translating punch. So without further ado, let's take a look at what wonders lurk inside, together with
Steve's translations and comments
(caution: explicit language used).
Back Page:


日本における外人犯罪件数年間47000件!!
47,000 crimes by foreigners each year!!
There then follows a 'danger rating' (危険度) of each country, scattered on a world map surrounded by knives, guns and syringes:
China: 14
Russia: 5
Korea: 9
Brazil: 8
Colombia: 3
Etc.
None for the USA, Canada, Australia or the whole of Europe…

Article about crimes by Iranians:
イラン人を捕まえ!!
Catch the Iranian!!

Article lamenting Tokyo's demise into lawlessness:
不良外人暴力都市!!
City of Violent Degenerate Foreigners!!

Article about foreigners scamming Japanese for money:


毟られる日本人。『シャチョサン、ATMコッチデス』
Japanese getting conned. "Theesaway to ze ATM, Meester Managing Director"

Feature of foreign guys picking up Japanese women (What this has to do with 'crime' is unclear)


そりゃあ日本人は小さいけど。。
YELLOW CAB REAL STREET PHOTO
お前らそんなに外人がイイのかよ!!
You sluts really think foreign guys are so great, huh!!
We know Japanese guys are small, but..

Picture of black guy touching a J.girls ass in Shibuya (obviously consensual too)
おいニガー!!日本婦女子のケツさわってんじゃねえ!!
Oi Nigger!! Get your fuckin' hands off that Japanese lady's ass!!
(… yes. It really does say ニガー)

Picture of dark-haired foreigner kissing J.girl in Shibuya (again, obviously consensual)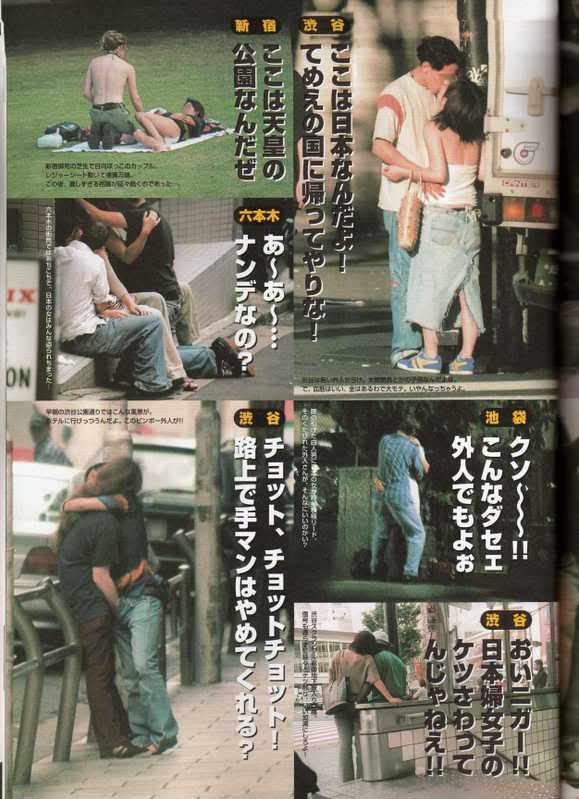 ここは日本なんだよ!てめえの国に帰ってやりな!
This is Japan! Go back to your own fuckin' country and do that!

Picture of foreigner with hands down a J.girls knickers in Shibuya (definitely consensual)
チョット、チョットチョット!路上で手マンはやめてくれる?
Woah! Woah! Woah! Would you stop fingering a girls pussy in the street, OK?
See Debito's entry for
additional scans
.
Almost as evocative as the book cover is the image I have in my mind of disgruntled foreign residents nationwide foaming at their respective mouths and rushing out in droves to purchase (at full price) every copy of this publication so they can show the world the racially charged hate-speech that is plaguing this land, and I wouldn't blame them for doing so. It's not exactly complimentary (despite it not applying to me personally, as a merely "foreign-looking" citizen). It does though remind me of the example many people use to illustrate how Japan is a socially backwards country - that "walking down the street eating a sandwich is an absolute no no, but browsing through schoolgirl rape-porn on trains in full view of elementary age children is perfectly acceptable. It must be true because
I've seen it!
" I know a lot of locals that have seen it too, and according to them, it's despicable behaviour and totally unacceptable by all social standards. So why does it happen then? Because individuals are individuals, and this is the case anywhere. This book is not a MEXT (Ministry of Education) approved textbook for junior high school social studies class, it was written by individuals who (I'm going to go out on a limb here and say) have an extremely right wing agenda. (I'm also going to go out on my other limb and say that aside from the hordes of disgruntled foreign residents and human rights activists,) the only people purchasing this book for more than mere token amusement value are individuals with an equally right wing agenda. None of this says anything about the country or the society as a whole.
What
does
say something about the country as a whole is that such blatant hate-speech has been sitting on shelves of regular convenience stores for days now, (not to mention
Amazon
,
Kinokuniya
,
Rakuten Books
and
Kuroneko Book Service
, all major distributors) and apart from one or two blogs, nothing has been done in response. In fact, that they're still sitting there at all could be seen to reflect quite badly on Japan. Compare and contrast; were a similar publication to appear in some countries, it would be taken off the shelves within minutes due to public protest, boycotts, negative media coverage and fear of government intervention. I'm not sure exactly how this differs from censorship, but I've been assured on good authority that it does. Personally I'm in two minds, after all, with even just a quick glance at the cover, it's clear nobody in their right mind is going to buy it believing it to be an impartial study of a recent social phenomena. You'd have to be seriously impaired to believe its intent is to do anything other than rouse rabbles.
As demonstrated with the last bombshell, nothing hurts a cause like bad propaganda, and the cause in this instance is that of "foreign = dangerous, alien crime-wave damaging society" which has been gradually gaining steam for some years now. Regular newspapers frequently quote police statistics to highlight this new terror from without (most likely as a scapegoat mechanism to stigmatise the smaller weaker members of society to make the majority feel better about their own failings) despite the statistics actually saying the complete opposite on closer inspection. And when it's regular newspapers with sensible looking headlines, people are inclined to take it at face value. Shock value publications like this with the whole in-your-face "they're going to eat you alive and spit on your dog, OMGWTF" approach is not going to convince anybody that wasn't already convinced, and those that previously just assumed such assertions were true are either going to a) roll their eyes, or b) sympathise with the scapegoat. As a cause I'd personally like to see damaged, I say let it dig its own grave. Then maybe some of us can get some peace round here!
And I'll have you know there's nothing wrong with walking down the street eating a sandwich.
Update
It made the
Guardian
, and now the
Times Online
!